'Saint Mary' by Sparklehorse

This is an unofficial music video for 'Saint Mary' by Sparklehorse.



The film was done using my Dad's old slide projector from the 1950's, with a bit of after effects cheating. The projector allowed me to have two slide cases in at a time, and each of them could have three layers within them so I could change the focus of the lense between each layer. I was only actually able to do this on a couple of shots though. Here are some of the slides I made for the video...

.......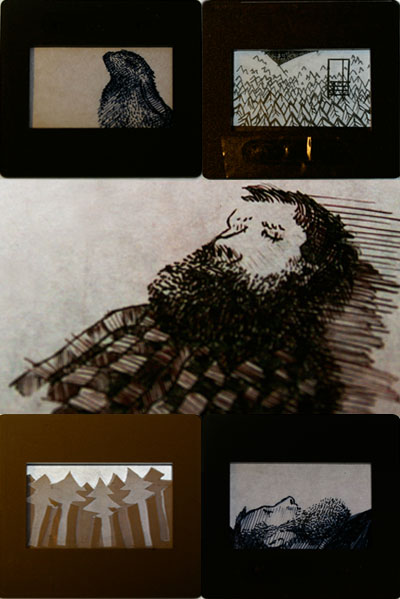 It's really fiddly work, especially the paper cut outs, but I was encouraged to keep at it by some of the early images I was able to get out of the projector. I love the cross hatching style, and the first flickering, jumpy tests I did really semed to work with the song, so I was free to concentrate on the story to a certain extent, and just let the projector do most of the work :)

The narrative (such as it is) came from a combination of the lyrics of the song itself, and vague memories I had of one of the short stories in Ray Bradbury's The Martian Chronicles that I'd read a year or so ago. I had no great plan for the story though, it just kind of evolved as I was making the images and figuring out what the hell the next shot should be. It seemed to work out ok, I think...

This is the projector I used - you could actually open it up from the top and slide a longer piece of acetate through, which is how I did the scrolling trees at the start.

............